Sharing, Caring, Helping, Protection & Cooperation by mindfulness & right understanding
ThaBarWa Centre
Thabarwa (Natural) Center in Thanlyin, Myanmar is a non-profit humanitarian organization working for a noble cause.
Thabarwa Center was established with unlimited access for general benefit and is fulfilling the most crucial needs continually and persistently step by step.
Thabarwa Center is open full-time, 24 hours a day, seven days a week without recess. It is the sanctuary for persons from all regions of Myanmar who seek refuge for care and attention and desire to practice meditation.
The center provides sanctuary for more than 2,400 yogis (as of February 2014) including aged persons, sick, infirm, blind, deaf, disabled, mental cases, homeless and helpless. Sanctuary is provided without discrimination or restriction as to number, time, age, health condition, nationality, social status, religion, etc.
Food, lodging and teaching are provided free of charge.
It is the place where volunteers can donate their skills, time, energy, labor, money and materials to gain merit and practice meditation for a worthy cause, and to look after the welfare of the residents taking refuge at Thabarwa Center. Thabarwa channels the money and materials received in donations to provide a peaceful venue for people to practice Dhamma without worry.
———————————————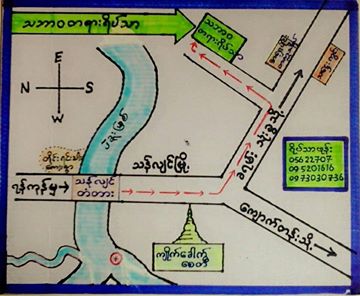 How to come our ThaBarWa Centre:
…………………………………………………………………….
သဘာဝတရားရိပ္သာအေၾကာင္း တေစ့တေစာင္း …
About Thabarwa Centre (As at March 2015)
လိပ္စာ
က်ိဳက္ေခါက္ဘုရားေရွ႕၊ သန္လ်င္
(တာ၀ တကၠသိုလ္မေရာက္မီ တစ္မွတ္တိုင္ ေညာင္ပင္ မွတ္တိုင္ တြင္ဆင္း၍ ေရႊေပၚကၽြန္းမုဒ္ဦးလမ္းသို႕၀င္ပါ )
အမွတ္( ၄၅ ) – ၄၅လမ္း၊ ရန္ကုန္
(ကုန္သည္လမ္းႏွင့္ မဟာဗႏၶဳလလမ္းၾကား – YMCA ေဘး)
Address
Thabarwa Center (Thabarwa Meditation Centre), Thanlyin Township of Yangon, Myanmar
No. 45, 4th Floor, 45th Street, Yangon, Myanmar
————————————————————
What is ThaBarWa Centre?
# Thabarwa Centre was established by Ashin Ottamasara, the abbot of the centre, in 2007, for all. In Thabarwa centre anyone can do good deeds as he or she wishes. Anyone can help others according to the situation.
# The Centre is trying to help the people in need, the old aged, the patients, and the homeless people. This place is now well-known for offering help to anyone in need. In the centre, we provide the people food, offer shelter and educate their children. Then they can also help others as they can. This is a home for all, for the whole family. The centre was established to teach people about the benefits and the good results of doing good deeds. Here we are doing good deeds all the time, all kinds of good deeds, including meditation.
#People can participate in the centre's activities according to their own wish, for right understanding and good benefits. In this way  everybody can learn about meditation and doing good deeds by direct practice and experience. Everyone will be satisfied with doing good deeds and meditation. All  dreams will come true as a result of doing wholesome deeds with a right attitude.
#What we have done before and what we are doing now will condition and affect what is happening to us now and what will happen in the future. If there is cause, there will be effect. Causes in the past and the present time will  result in the present and future happening in our life. So if we do good, there will be good results. If we do bad, there will be bad results, now and in the future.
#Everyone can understand cause and effect very easily by staying and living the centre. This place is especially for doing good deeds and meditation, not for  frivolities. In the society you can do anything, good or bad, but here, we do only good things – we do good, we speak what is right, we think about what is true. Meditation is the mental practice of mindfulness and right understanding. Through meditation, the mind will be happy, peaceful and powerful.
#Without meditation, the mind will be full of defilements such as fear, worry, anger,  jealousy, craving, misunderstanding, etc. Here most of the people are not healthy, not young, not rich, but most of the minds here are healthy and clean, with less attachments than people in the society. This is the place of healthy and wealthy minds. We are doing good deeds and meditation every day, every time. This place is the centre of  full-time meditation and doing good deeds for spiritual development.
————————————————————————————-
Information on Thabarwa Centre … သဘာဝတရားရိပ္သာအေၾကာင္း
Land size: 58 acres ………. ဧရိယာ – ၅၈ ဧက
Residents in total: ~ 2545 ………. အၿမဲတန္းေနထိုင္သူ – ၂၅၄၅ ေယာက္
Monks: 310 ………. သံဃာ – ၃၁၀ ပါး
Novices: 27 ………. ကိုရင္ – ၂၇ ပါး
Nuns: 246 ………. သီလရွင္ – ၂၄၆ ပါး
Children: 25 ………. ကေလးငယ္ – ၂၅ ေယာက္
Volunteers: 140 ………. လုပ္အားေပး – ၁၄၀ ေယာက္
60+ years old: 613 ………. အသက္ ၆၀ ႏွင့္အထက္ – ၆၁၃ ေယာက္
Meditators: ~ 1100 ………. အခ်ိန္ျပည့္ေယာဂီ – ၁၁၀၀ ေယာက္
Information on Thabarwa Residents … နာမက်မ္းသူ လူမမာမ်ား
Patients in total: 516 ………. နာမက်မ္းသူ လူမမာမ်ား – ၅၁၆ ေယာက္
Diabieties: 100 ………. ဆီးခ်ိဳ ေဝဒနာရွင္ – ၁၀၀
Cancer: 4 ………. ကင္ဆာ – ၄
Stroke: 82 ………. ေလငန္း – ၈၂
HIV: 27 ………. HIV – ၂၇
Tuberculosis: 31 ………. တီဘီ – ၃၁
TB + HIV: 4 ………. HIV + တီဘီ – ၄
Mental patients: 49 ………. စိတ္ေဝဒနာရွင္ – ၄၉
Information on Thabarwa Halls … အေဆာက္အဦးမ်ား
Number of buildings: 112 ………. အေဆာက္အဦးမ်ား – ၁၁၂
Dormitories: 42 ……….
Single yogi houses: 29 ………. တပါးေဆာင္ – ၂၉
Meditation halls: 3 ………. ဓမၼာရံု – ၃
Medical buildings: 3 (1 traditional Burmese medicine, 1 dental clinic, 1 western medicine clinic) ………. ေဆးခန္း – ၃ (ျမန္မာ့ရိုးရာတိုင္းရင္ေဆးခန္း – ၁ + သြားေဆးခန္း – ၁ + အေနာက္တိုင္းေဆးခန္း – ၁)
Schools: 2 (1 for Novices and 1 for young nuns) ………. စာသင္ေက်ာင္း – ၂ (ကိုရင္ – ၁ + သီလရွင္ – ၁)
Kitchens: 3 ………. မီးဖိုေဆာင္ – ၃
Public toilets: 6 ………. အမ်ားသံုး ေရအိမ္သာ – ၆
————————————————————————————————-
Information about the Goodwill Village, Thanlyin
၁၅-ေပ ေစတနာရြာ အေၾကာင္း (15 minute walk from Thabarwa Center)
Land size: 28 acres ………. အက်ယ္အဝန္း – ၂၈ ဧက
Residents in total: ~ 8600 ………. ရြာသား – ၈၆၀၀
35+ years old: 4600 ………. အသက္ ၃၅-ႏွစ္အထက္ – ၄၆၀၀
18-35 years old: 1500 ………. အသက္ ၁၈ မွ ၃၅ – ၁၅၀၀
Students: 600 ………. ေက်ာင္းသား – ၆၀၀
Children not in school: 1900 ………. ေက်ာင္းမေနေသာကေလး – ၁၉၀၀
Housing units/Huts: 2450 ………. အိမ္ေျခ – ၂၄၅၀
Schools: 1 ……….စာသင္ေက်ာင္း – ၁
Hospitals/clinics: 0 ………. ေဆးရံု / ေဆးခန္း – ၀
Community halls: 0 ………. ရြာခန္းမ – ၀
Multipurpose hall: 1 (present function: school) ………. ဓမၼာရံု – ၁
Markets: 1 (small shops: 192) ………. ေစ်း – ၁ (ဆိုင္ခန္း – ၁၉၂)
Public toilets:126 ………. အမ်ားသံုး ေရအိမ္သာ – ၁၂၆
————————————————————-
Mission
Sharing, Caring, Helping, Protection and Cooperation by Mindfulness and Right Understanding.
Vision
The vision of Thabarwa Centre is to provide opportunities for everyone to do a wide range of good deeds on a regular basis.
————————————————————–
Thabarwa Centre Vision and Mission
1. Thabarwa Centre is the place to practice Samatha and Vipassana Bhavana (tranquility & insight meditation) with no attachment to the teacher, the person, the method, the place and the endeavour but with central intention to arise the power of detachment, purification of mind and doing limitless good deeds including practicing Samatha and Vipassana Bhavana. Thabarwa trains and teaches yogis (meditators) to use meditation teacher, the life of meditator, the place, the method, etc for the purpose of purifying the mind and thus they are not to be attached to nor rejected.
2. Though Thabarwa Centre sets up and establishes monastic schools, libraries, clinics, hospitals, home for the aged, goodwill villages, etc, and functioning for common welfare, it is neither a social welfare organisation nor striving towards amassing worldly wealth nor functioning with the limitations and grasping to the idea of "I – you, healthy – sick, old – young, rich – poor, my country – your country, my race – your race, etc".
Thabarwa Centre focuses solely on doing limitless good deeds beyond habitual grasping on the person, the country, the race or the religion but flexible enough to do boundlessly and continuously according to the situation, time and place for the convenience of all.
3. Although Thabarwa Centre distributes a wide range of audio Dhamma teachings, Dhamma books, Buddha statues, art photos of Buddha and renown Dhamma teachers at cost price and establishes mini-marts and satellite markets for the convenience of its residents, we are not a business entity and thus we are not striving towards making profit, amassing wealth and definitely not doing for the benefit and wellbeing of our own Thabarwa Centre. Also, we do not concur with the notion of giving priority and placing centre emphasis on the dhamma, the person, the teacher and the organisation (attachment to I-me-mine). Instead, we continuously and progressively strive to do limitless good deeds as much as possible in order to attain mundane and supramundane wellbeing. (Dhamma = Universal Welfare or Universal nature)
4. Though we continuously try our very best to carry out the duties of the country, the communities and the families by establishing series of cetana (goodwill) and dhamma villages, we are not a political organisation. In the same manner, we do not expect any official position, recognition and reward for our endeavours. We purely carry out these challenging tasks with the power of limitless good deeds (donation, morality and meditation practice).
Whenever we make use of the idea of this thing or that thing, this person or that person, this time or that time, this place or that place, we strive to abandon the habit of placing central emphasis (clinging) on our present endeavours, the person, the time and the place. In this way, we neither attach to or reject the created truth but merely make use of it (using-only) as and when it is required.
5. Thabarwa Centre carries out Dhamma propagation by building pagodas, monasteries, Pariyatti Institutes, schools, establishing meditation centres, organising meditation retreats and Dhamma talks. We strive to carry out these Dhamma  duties freely with the right understanding such as there is no I-you, not mine-yours, but just the process of physical and mental phenomena without the limitations such as for myself, for my society and for my religion.
6. Thabarwa Centre continually establishes meditation centres, organises meditation retreats and dhamma talks. However, we are not carrying out these tasks for the benefit of our centre, our students and our teachers but towards realizing the Original Truth (Dhamma perfection) which is totally free from greed, anger and delusion.
We do unlimited good deeds because we believe that the good causes will give the good results. Concurrently, we avoid  evil deeds because we also believe that the evil causes will give the evil results. Hence, we especially strive to be mindful all the time in order not to grasp to any wrong or any good as mine, my thing, or belonging to self, my endeavours, or my  life, etc.
7. Thabarwa cooperates and collaborates with various individuals, families, societies and organisations without placing central emphasis on their size (big or small) and the strength (strong or weak). Our core objective is to develop mutual understanding, tolerance and forgiveness among all parties so as to solve multitude of problems with combined strength and coordination.
8. There could be numerous good causes behind the single good cause as it is done not only for that particular single good cause, but also for limitless good causes behind it. There could be countless of individuals behind the single individual. Our endeavours are not only for the benefit of single individual but also for the countless of individuals behind him. There could be multitude of societies and organisations behind the single society and organisation. The endeavours of Thabarwa Centre are not only for the single society or organisation but also for each and every society and organisation in the world.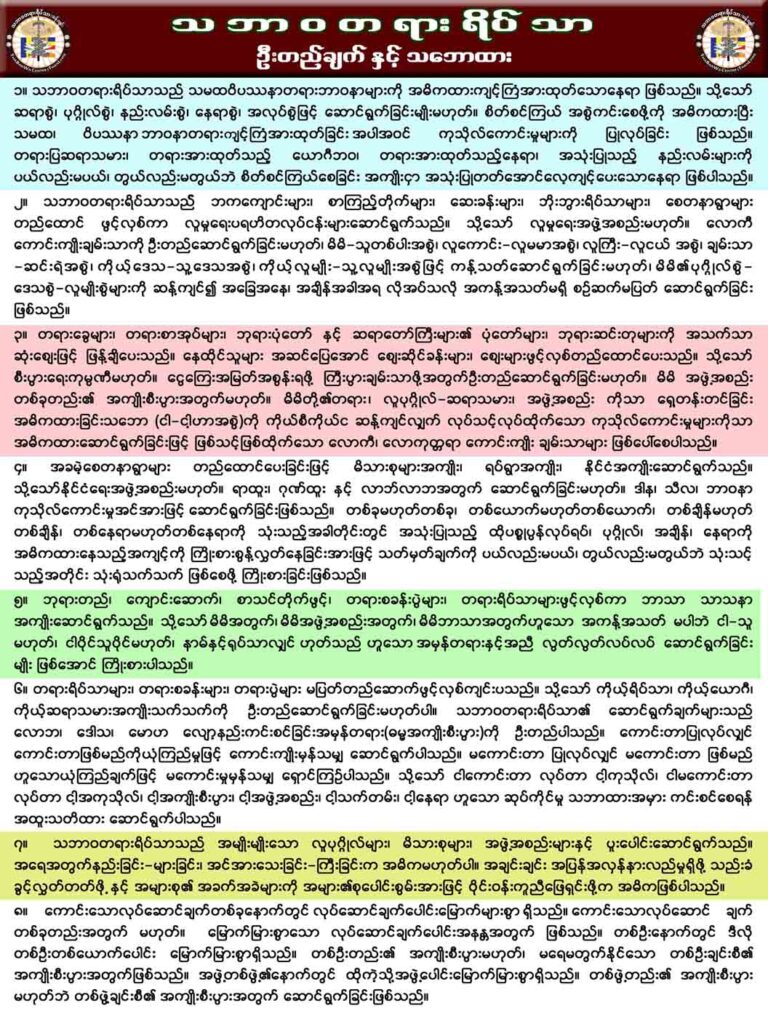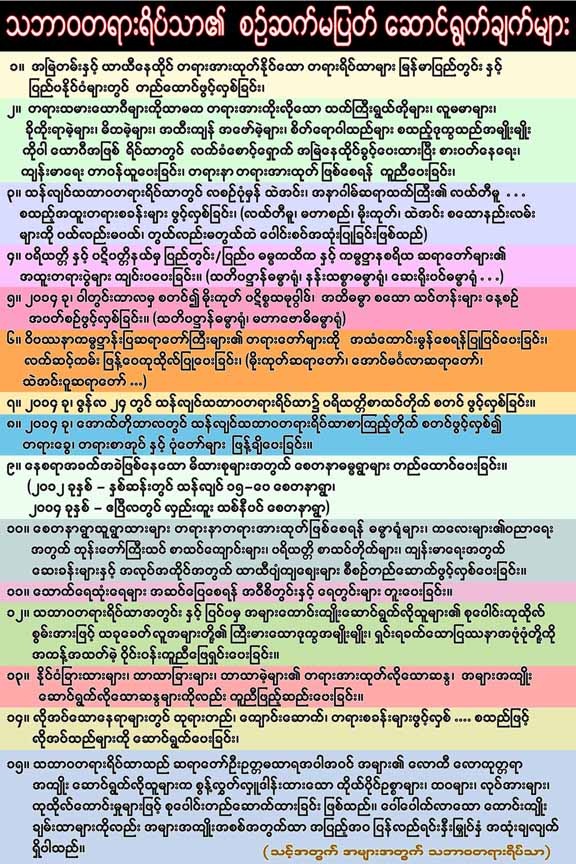 Activities of ThaBarWa Centre
1. Establishing Thabarwa Centres across Myanmar and overseas countries
where yogis can practice vipassana insight meditation on long-term
(permanent, full-time) and short-term (non-permanent, part-time) basis.
2. Providing a permanent sanctuary not only to the practicing yogis
(meditators), but also to the elderly, infirm, orphans, homeless, helpless,
abandoned and lonely individuals, psychiatric and mental cases and offering
them food, shelter, medical attention, security as well as encouraging them
to listen to dhamma teachings, practice insight meditation and perform good
deeds.
3. Facilitating monthly meditation retreats at Thanlyin Thabarwa Centre and
the branches of Thabarwa. It is the proof that Thabarwa neither rejects nor
attaches to the methods such as Ledi, Maharsi, Mogok, TheInnGu but
combines, incorporates and uses only.
4. Organising special dhamma talks by regional and international
Dammakahtika (teacher of dhamma) and Kammahtanacariya (instructor in
meditation) who are well verse in the fields of Pariyatti and Patipatti Sasana.
(Theories and Practices of Buddha's teachings.)
5. Conducting daily and weekly Paticcasamuppada (the Law of Dependent
Origination) and Abhidhamma (Basket of Special Doctrine) at Thabarwa
Centre at Thanlyin since 2014.
6. Editing, audio enhancing and distributing a wide range of teachings of
renowned and prominent Vipassana Kammahtanacariya Sayadawgyis (
Insight Meditation Masters) at no cost and as gift of dhamma (dhamma
dana) to the devotees.
7. Establishing Pariyatti Institutes. The first Pariyatti Institute was
inaugurated on 24th June 2014 at Thanlyin Thabarwa Centre.
8. Establishing libraries to distribute a wide range of audio and video
dhamma teachings, dhamma books and art photos as gift of dhamma
(dhamma dana). The first library was inaugurated in October 2014 at
Thanlyin Thabarwa Centre.
9. Establishing series of cetana (goodwill) and dhamma villages for
homeless and helpless individuals and families (15ft Cetana Village,
Thanlyin, Yangon in early 2012 and Thitnipin Cetana Village, Hlegu
Township, Yangon in 2014).
10. Building dhamma halls so that villagers can listen to dhamma teachings
and practice insight meditation, setting up monastery schools, religious
schools and Pariyatti Institutes for children' education, building dhamma
clinics and hospitals for villagers' health and building temporary satellite
markets so that villagers can have job and steady income.
11. Drilling artesian wells and surface wells for clean and safe drinking water.
12. Solving multitude, complex and endless troubles and difficulties of
modern day society with the participation, strength and effort of the members
of ThaBarWa Centre, various local and overseas parahitta, social and
volunteer groups, who are keen to do limitless good deeds.
13. Fulfilling the wishes of the foreigners, people from different religion and
freethinkers, who want to practice meditation, do volunteering and good
deeds.
14. Building pagodas, schools, meditation centres, etc at the place where the
need is most acute.
15. Indeed, Thabarwa Centre was established with the life, possessions,
place, combined effort, selfless action and limitless good deeds of Sayadaw
U Ottamasara, the donors and volunteers who are interested in to practice
meditation as well as to do limitless good deeds.
Thabarwa Centre utilizes all the donations and materials received in
genuinely fulfilling the requirements of the multitude and the people.
(Dhamma = Universal Truth or Universal welfares)
ThaBarWa Centre … for you and for everyone
 —————————————————
"With the aim of providing opportunities for meditators to do a wide range of good deeds on a regular basis, I established Thabarwa Meditation Center.
Instead of confronting and solving problems directly by following traditional social norms, I encourage, train and guide those who come to Thabarwa Center, including the elderly and those facing complex health, social and financial problems, to solve their problems with the aid of dhamma (meditation practice of mindfulness & right understanding).
I teach them to enhance their power of right understanding by listening to dhamma teachings, practicing insight meditation and performing good deeds as much as possible. Those people gradually come to realise that their problems were solved due to the merits they gained in doing various good deeds while staying at Thabarwa Center."
– Sayadaw U Ottamasara –
ThaBarWa Centre and how to get it
the place of learning and practicing meditation and helping others who needs help for physical and mental difficulties. Our place is known as Thabarwa Tayar Yeik Tar (ThaBarWa Meditation & Helping center) in Thanlyin township is 1hr & 30 min bus drive from downtown of Yangon.
Note: pls tell the driver that the centre is near Tar Wa Tat Ka Tol ( Tar Wa university OR Than Lyin Pa Yar Gone)
Our center is taking care of everybody who cannot support themselves because of various reasons and at the same time teaching them how to meditate and take care of their mind.
By staying in our place , you can participate in below activities of our centre according to your own wish.
1. Following the monks who are going alms round for charity and sharing back to patients, infirm, old people and meditators.
2. Taking care of patients or infirm or old people.
3. Following the countryside trips of the centre bus and branches of ThaBarWa Centres in other cities.
4. Learning burmese people and culture.
5. Attending meditation session and classes.
6. Helping in cooking for old, infirm, and hopless people and patients and meditators.
7. Helping in library.
8. Cooking and Sharing food to the old and disable people.
9. Learning the mercy villages for homeless and hopless people which are established and donated by our centre.
10. Teaching the Children or adults language or others or social activities.
…………………………………………………….
How to come our ThaBarWa Centre: