DHAMMA HOSPITAL PROJECT AT THABARWA CENTRE
Sayadaw U Ottamasara, abbot of Thabarwa Meditation Centre, Yangon, Myanmar teaches Dhamma and Insight Meditation in a simple way that allows us to directly experience the nature of reality without any slightest attachment. Sayadaw repeatedly stresses on the importance of Right Understanding in our meditation and daily lives without which we are not able to abandon our attachment.
Sayadaw encourages us to do good deeds, limitlessly and completely in order to have courage and to be free from fear in doing good deeds. He teaches by example in doing what is necessary to do – guided by Right Understanding and then Doing Only without attachment.
Sayadaw believes that not only yogis should be taught about meditation, but meditation should be available to all especially the old and the sick.
With the increasing number of old and sick people seeking refuge for medical care as well as Dhamma, Sayadaw is now planning to build a Dhamma Hospital for the the following reasons:
– more and more old age people are interested in meditation but no where to go especially when they are sick
– they can stay until the end of their lives (free of charge) learning meditation and not to worry about medical attention and care.
– the doctors and helpers are working on voluntary basis and they are also participating in the meditation practice
– basically a sanctuary for all (young, old, healthy, sick, local, foreigners, helpers) to meditate and do good deeds together.
We are very encouraged by Sayadaw's teaching and role modeling.
 Thabarwa Meditation Centre is established with unlimited access for everyone. It is opened 24 hours a day, 7 days a week.
Currently it houses more than 1400 yogis (as at Oct 2012) including the old, the sick, the infirm, the blind, the deaf, the disabled, psychiatric and mental patients, the homeless and the helpless.
If you wish to come to the center to practise Vipassana insight meditation or do volunteering work you can contact Sayadaw U Ottamassara Or  ThaBarWa Centre.
Our ThanLyin center is 80 acres wide & the dhamma hospital is within thabarwa centre (ThanLyin) of 80 acres wide. Dhamma hospital is just digging for the foundation. I attach the picture of digging place for foundation of Dhamma hospital.
BELOW IS THE PICTURES OF SOME PATIENTS AT THABARWA CENTRE.
THE BELOW PIC  IS THE FOUNDATION PLACE OF DHAMMA HOSPITAL..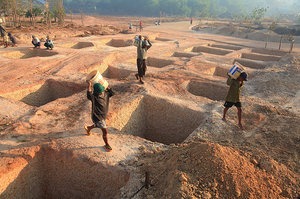 Here is a brief description of the Dhamma hospital project which is starting in Thanlyin (Yangon, Myanmar), at Thabarwa Natural Meditation Centre.
This is a very first estimation of the cost and of course on the way it might change and will have to be adapted to the actual conditions such as market prices, etc. It is not included the medical instruments and equipments inside it. The estimated cost is just for building.
You also can listen a few words recorded about the project and especially about the aim of the project directly from sayadaw U. Ottamasara who is the monk leading the project.
Please listen to it carefully despite of the bad quality of sound. (a transcription in English and translation in French are also added on next document).
The prices are indicated in Burmese currency which means that you have to convert it in US$ by removing three 0 / let's say that 1000K=1US$ (this is a very rough estimation but at this stage it can give an idea). Current Myanmar (Kyats) money exchange rate (as in Feb 27, 2013) is 860K for 1 US$.
Later on, we will be able to give more details as things will evoluate and become more precise.
If you are interested in supporting Sayadaw's vision of a Dhamma Hospital, you may send your dana to the following account:
POSB Savings Account: A/C No.  171-57463-3
Name :    OTTAMATHARA.  (Swift code   DBSSSGSG)
Please contribute generously (any amount is welcome) and also help spread the word around. May you and your family be blessed with this opportunity to perform the dana.  You also might be interested in learning more about the center or about the teaching of sayadaw so you can open the following websites :
Postal address :  THANLYIN  (BETWEEN  KYAIK KHAUK  PAGODA AND EAST YANGON UNIVERSITY) .   PHA_YAR_GONE VILLAGE, THANLYIN TOWNSHIP, YANGON, MYANMAR.       Ph: +95.95085212,
TO SEE MORE ABOUT IT , PLS DOWNLOAD PDF FILE AT BELOW
http://www.mediafire.com/view/?mtyyspj2thdlcmt
and you always can contact sayadaw by email : mtsm45@gmail.com
or                                                Soe Win Htut :  soewinhtut1977@gmail.com,